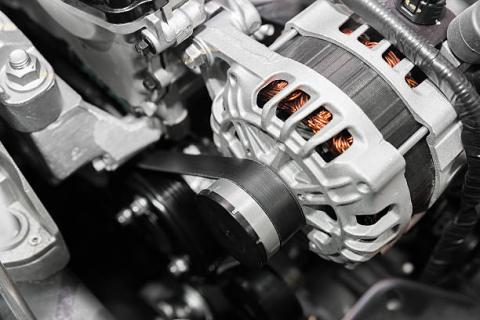 The alternator is a component that delivers electrical charge back to the battery. Your battery is the "heart" of your electrical system, providing power to run computers, switches, and small motors that all have a specific function within their own systems…but without battery power, nothing works!
In your car, truck or SUV the alternator is attached to the engine and has a pulley driven by a "drive" belt, or in most of today's vehicles, the serpentine belt. Running continuously while your vehicle is running, it acts like a generator to produce a charge that the battery will store. Essentially, it is a motor that runs in reverse to move energy TO the battery. If the serpentine belt breaks, there is no charge produced to replenish the battery, which continues to feed power to all other systems as required.
Alternatively, if your vehicle already has a weak battery, the alternator will continuously try to overproduce the replacement charge, and eventually fail.  That's why it's important to have a regular inspection of your charging system, so you can always have the right amount of power available when your vehicle needs it.
We use only the highest quality parts at Taylor Automotive, and we take a great deal of pride in our work. We know you have many choices for auto service here in Canton, so we get your service and repairs done right the first time! Call us at (903) 567-3948 for an appointment, or come see us at 27928 TX-64 and we'll get some new spark in your ride!